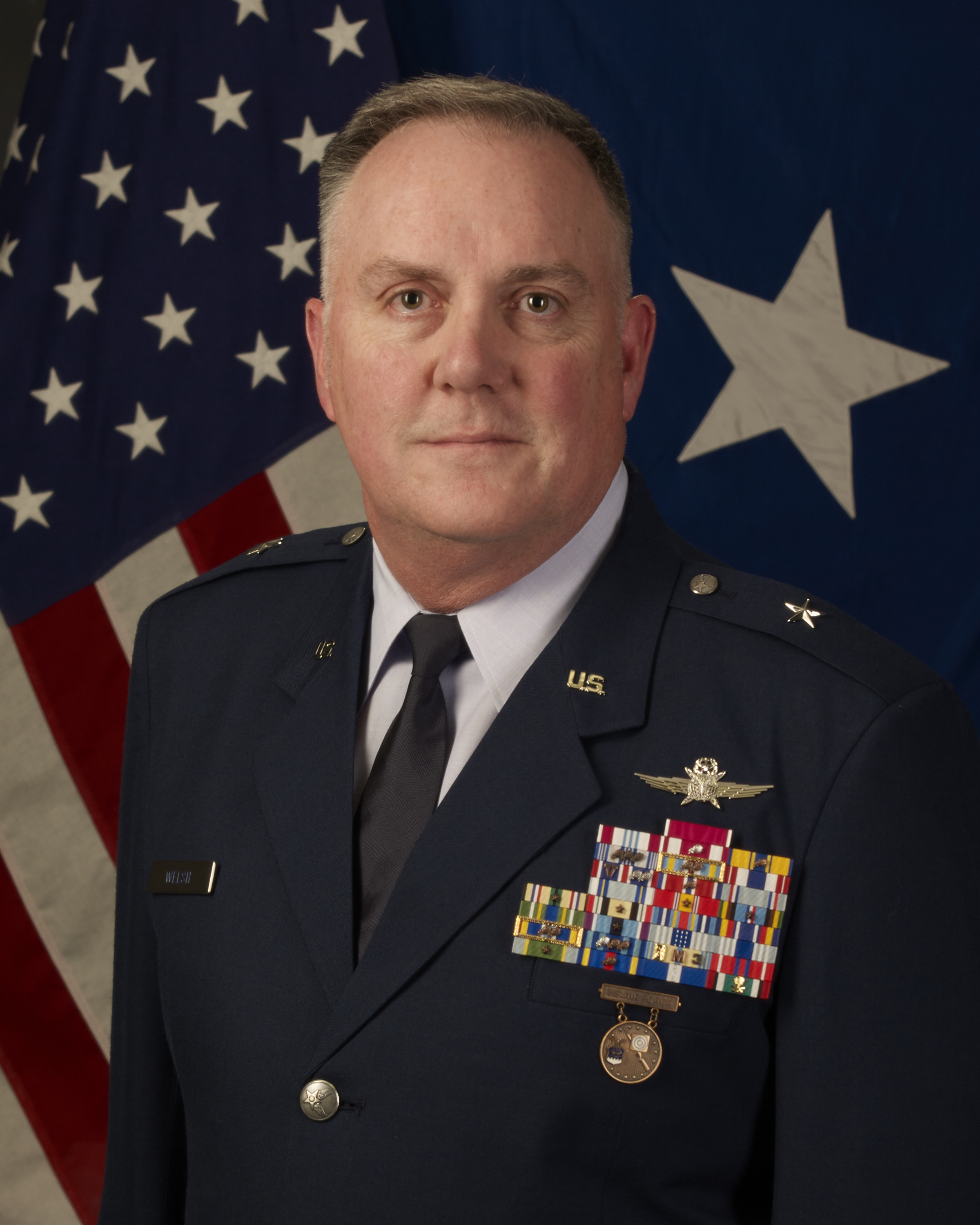 Brig. Gen. Gent Welsh
Commander, Washington Air National Guard
Brig. Gen. Gent Welsh is Commander, Washington Air National Guard, at Camp Murray, Wash. He is responsible for the mission readiness and operational effectiveness of more than 2,100 military and civilian personnel assigned to the 141st Air Refueling Wing in Spokane, Wash., the 194th Wing at Camp Murray, the Western Air Defense Sector Headquarter located at Joint Base Lewis McChord (JBLM), Wash., and Headquarters, Washington Air National Guard, also at Camp Murray.
General Welsh began his military career by enlisting in the United States Air Force in 1988. He transferred to the Air National Guard in 1992 and was later commissioned as a 2nd Lieutenant in 1994. He has held a variety of positions in air support operations and combat communications units, including command positions at the squadron, group, and wing levels. He is an in-residence graduate of the Air War College, at Maxwell AFB, and commanded the 242nd Combat Communications Squadron, and the 252nd Combat Communications Group, and served as the Chief Information Officer, J6 and Chief of Staff for the Washington National Guard. Prior to his current position, General Welsh served as the 194th Wing Commander.
General Welsh has deployed on multiple occasions with the Washington Air National Guard in support of, operations Desert Shield, Southern Watch, Joint Forge and Iraqi Freedom. He first served as the Plans and Implementations Flight Commander for the 363rd Expeditionary Communications Squadron at Prince Sultan Air Base, Saudi Arabia from October 1999 to December 1999. He later served as the Contingency Plans Officer, HQ USAFE/A6 at Ramstein AB, Germany from January 2001 to February 2001. General Welsh also served as the Chief of Network Systems and Contingency Communications, HQ – at Headquarters NATO Stabilization Force (SFOR), Sarajevo, Bosnia and Herzegovina, from October 2003 to March 2004 from 2003 to 2004. During his latest deployment, he served as the Commander of the, 506th Expeditionary Communications Squadron, at Kirkuk Regional Air Base/Forward Operating Base Warrior, Iraq, from May 2007 to September 2007.
EDUCATION

1995 Bachelor of Arts, Eastern Washington University, Cheney Wash.
2001 Squadron Officer School, Maxwell AFB, Ala. by correspondence
2003 Master of Science, Eastern Washington University, Cheney, Wash.
2005 Air Command and Staff College, Maxwell AFB, Ala. by correspondence
2007 Air War College, Maxwell AFB, Ala. by correspondence
2014 Air War College, Maxwell AFB, Ala.
2014 Master of Strategic Studies, Air University, Maxwell AFB, Ala.
ASSIGNMENTS

June 1988-March 1992: Security Policeman, RAF Lakenheath, U.K. and Fairchild AFB, WA
March 1992-February 1994: Intelligence Operations Specialist, 111th ASOC, Camp Murray, Wash
February 1994-December 1997: Communications Operations Officer, 111th ASOC, Camp Murray, Wash
December 1997-May 2005: Detachment Commander, 256th CBCS, Four Lakes, Wash
May 2005-September 2008: Commander, 242nd CBCS, Spokane International Airport ANG Base, Wash
September 2008-December 2011: Deputy Commander, 252nd Combat Communications Group, Camp Murray, Wash
December 2010-August 2011: Commander (Interim), 252nd Combat Communications Group, Camp Murray, Wash
December 2011-June 2013: Chief Information Officer/J6, Washington National Guard, Camp Murray, Wash
June 2013-May 2014: Student, Air War College, Maxwell AFB, Ala
May 2014-April 2017: Chief of Staff, Washington National Guard, Camp Murray, Wash
September 2015-April 2017: Vice Commander, 194th Wing, Camp Murray, Wash
April 2017-Dec 2019: Commander, 194th Wing, Camp Murray, Wash
Jan 2020-Present: Commander, Washington Air National Guard, Camp Murray, Wash
MAJOR AWARDS AND DECORATIONS
Legion of Merit
Defense Meritorious Service Medal
Meritorious Service Medal with five oak leaf clusters

Air Force Commendation Medal with one oak leaf cluster
Air Force Achievement Medal with three oak leaf clusters
Joint Meritorious Unit Award with two oak leaf clusters
Meritorious Unit Award
Air Force Outstanding Unit Award with "V" device and eight oak leaf clusters
PROFESSIONAL MEMBERSHIPS AND ASSOCIATIONS
Air Force Association, Life Member
National Guard Association of the United States and Washington
Veterans of Foreign Wars, Life Member
American Legion, Life Member
EFFECTIVE DATES OF PROMOTION
Second Lieutenant February 1994
First Lieutenant February 1996
Captain February 1998
Major February 2002
Lieutenant Colonel March 2006
Colonel May 2013
Brig. Gen. Jun 2020
(Current as of Aug 2020)
---
Former Assistant Adjutants General and Commanders - Air National Guard
Brig. Gen. Robert King - Nov 1964-Jan 1978
Brig. Gen. Donald Richards - Feb 1978-May 1980
Col. Robert Ranzenbach - Aug 1980-Feb 1981
Brig. Gen. Milton H. Towne - Feb 1981-Aug 1983
Vacant - Sept 1983-Dec 1984
Brig. Gen. Milton H. Towne - Jan 1985-Jan 1988
Maj. Gen. Dennis B. Hague - Nov 1987-Apr 1989
Maj. Gen. Timothy J. Lowenberg - May 1989-Sep 1993
Maj. Gen. Frank Scoggins - Mar 1994-Feb 2007
Maj. Gen. Gary Magonigle - Feb 2007-November 2013
Brig. Gen. John Tuohy - December 2013 - August 2017
Brig. Gen. Jeremy "Java" Horn - September 2017 - Jan 2020