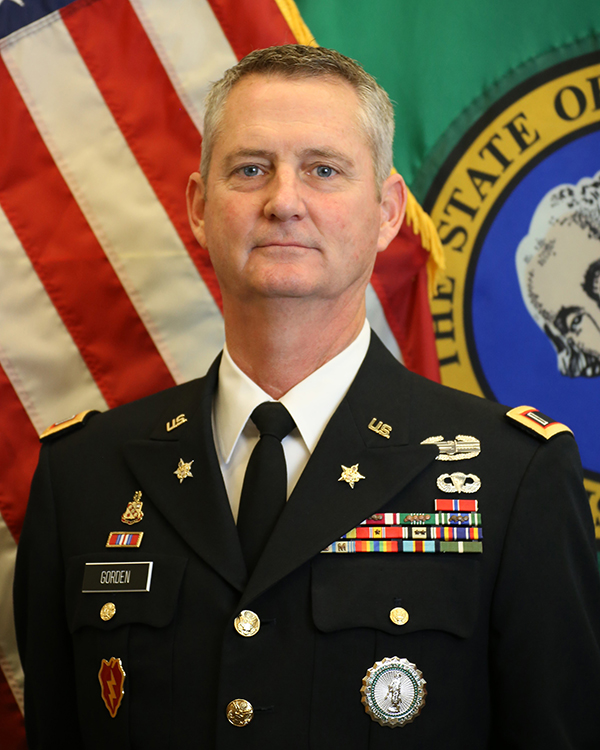 Command Chief Warrant Officer
CW5 Tim Gorden
Chief Warrant Officer 5 Tim Gorden, joined the Washington Army National Guard as a Captain, in January 1989, after 5 years active duty service as a commissioned officer stationed at Fort Lewis, WA. He was an ROTC distinguished military student, 2 year scholarship winner, and was commissioned as a 2nd Lieutenant (Regular Army), Field Artillery, in January 1984, after graduating from Washington State University. He previously attended Bellarmine Preparatory High School in Tacoma, WA.
While on active duty, Chief Gorden's (2nd Lieutenant thru Captain), assignments included, Company and Battalion (BN) Fire Support Officer, Assistant BN S3, Battery Executive Officer (2 separate occasions), BN Special Weapons (Nuclear) Officer, and General Officer Aide-de-Camp.
His assignments in the Washington Army National Guard (encompassing Officer, Non-Commissioned Officer and Warrant Officer ranks), have included, Assistant Brigade (BDE) S3 (Air), BN S1, Battery Commander, BN and BDE Fire Support Officer, BN S2, and BN and BDE Fire Support NCO. In 2004 he deployed to Balad, Iraq as the 81st BDE Targeting Officer, and was later selected as the Task Force Tacoma Fire Support Officer, during the first free Iraqi election of January 2005 in Mosul, Iraq. He has additionally served as a BDE Military Personnel Technician, and the Warrant Officer Candidate School (WOCS) program manager. Most recently he served as the state Warrant Officer Strength Manager.
Chief Gorden is a graduate of the Field Artillery Officer Basic Course, and has been an "Honor Graduate" or "Commandant's List" graduate of the Aviation Officer Advanced Course, Adjutant General Warrant Officer Basic and Advanced Courses, and the Warrant Officer Intermediate Level Education Course. In October 2017, he graduated from the Warrant Officer Senior Service Education Course.
CW5 Gorden's awards and decorations include the Bronze Star Medal, Meritorious Service Medal (4th Award), Army Commendation Medal (5th Award), Army Achievement Medal (4th Award), Iraq Campaign Medal (w/ 2 service stars), the Combat Action Badge, the Parachutist Badge, and the Honorable Order of Saint Barbara (for Field Artillery Professional Excellence).
Chief Gorden has civilian career experience with the E&J Gallo Winery, Kohler Plumbing North America, Dollar Financial Group Inc., and the WA Department of Social and Health Services. He resides in Tumwater, WA, with his wife, and sons.
---
Former State Command Chief Warrant Officers
CW5 Eugene Krueger - June 2008 - Mar 2011
CW5 Teresa Burgess - Mar 2011 - July 2018