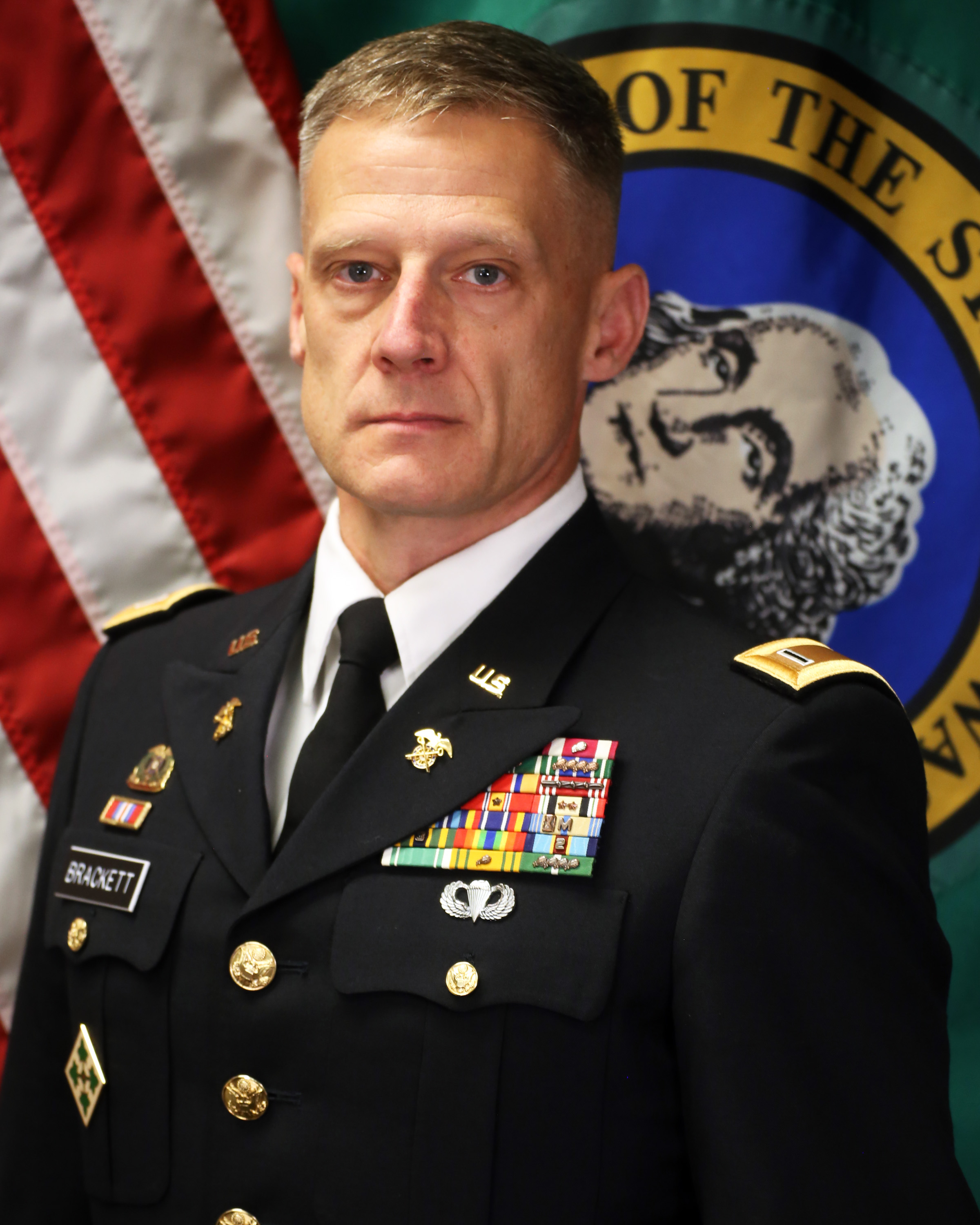 Command Chief Warrant Officer
CW5 Marc Brackett
Chief Warrant Officer 5 Marc Brackett joined the Washington Army National Guard as a specialist, in December 1993, after 2 years active-duty service. While on active duty, Chief Brackett's enlisted assignments included inventory control specialist for the Army Intensified Material Item Warehouse and Student United State Military Academy Preparatory School.
His assignments in the Washington Army National Guard (encompassing Non-Commissioned Officer and Warrant Officer ranks), have included, Inventory Specialist, Property Book Office NCO, Supply Sergeant, Senior Supply Sergeant, Property Book Officer, Property Management Branch Chief, and Force Integration Readiness Officer. In 2003, he deployed in support of Iraqi Freedom and in 2013 he deployed to Kuwait with the 96th Military Engagement Team supporting training engagements with Kuwaiti, Jordanian, and Tajikistani military forces.
Chief Brackett is a graduate Quartermaster Property Accounting Warrant Officer Basic and Advanced Courses, and the Warrant Officer Intermediate Level Education Course. In 2021, he graduated from the Warrant Officer Senior Service Education Course.
CW5 Brackett's awards and decorations include the Meritorious Service Medal (6th Award), Army Commendation Medal (4th Award), Army Achievement Medal (5th Award), The Army Good Conduct Medal (4th Award), National Defense Service Medal (2nd Award), Iraq Campaign Medal (w/ 2 service stars), GWOT Service Medal, GWOT Expeditionary Medal, Armed Service Reserve Medal (w/ Hourglass and M device), The Army Professional Development Medal (w/ numeral 3), Army Service Ribbon, Over Seas Ribbon (2nd Award), the Parachutist Badge, the Distinguished Order of Saint Martin (for Quartermaster Professional Excellence) and the Valorous Unit Award.
Chief Brackett has civilian career experience with Safeway, Albertsons, and Hagen Foods. He enjoys motorcycle track events, brewing beer, scuba diving, wood working, and travel. He resides in Olympia, WA, with his wife Alison.
---
Former State Command Chief Warrant Officers
CW5 Eugene Krueger - June 2008 - Mar 2011
CW5 Teresa Burgess - Mar 2011 - July 2018
CW5 Tim Gorden - July 2018 - Sept 2023