Adjutant General - Army
Brigadier General Wallace Turner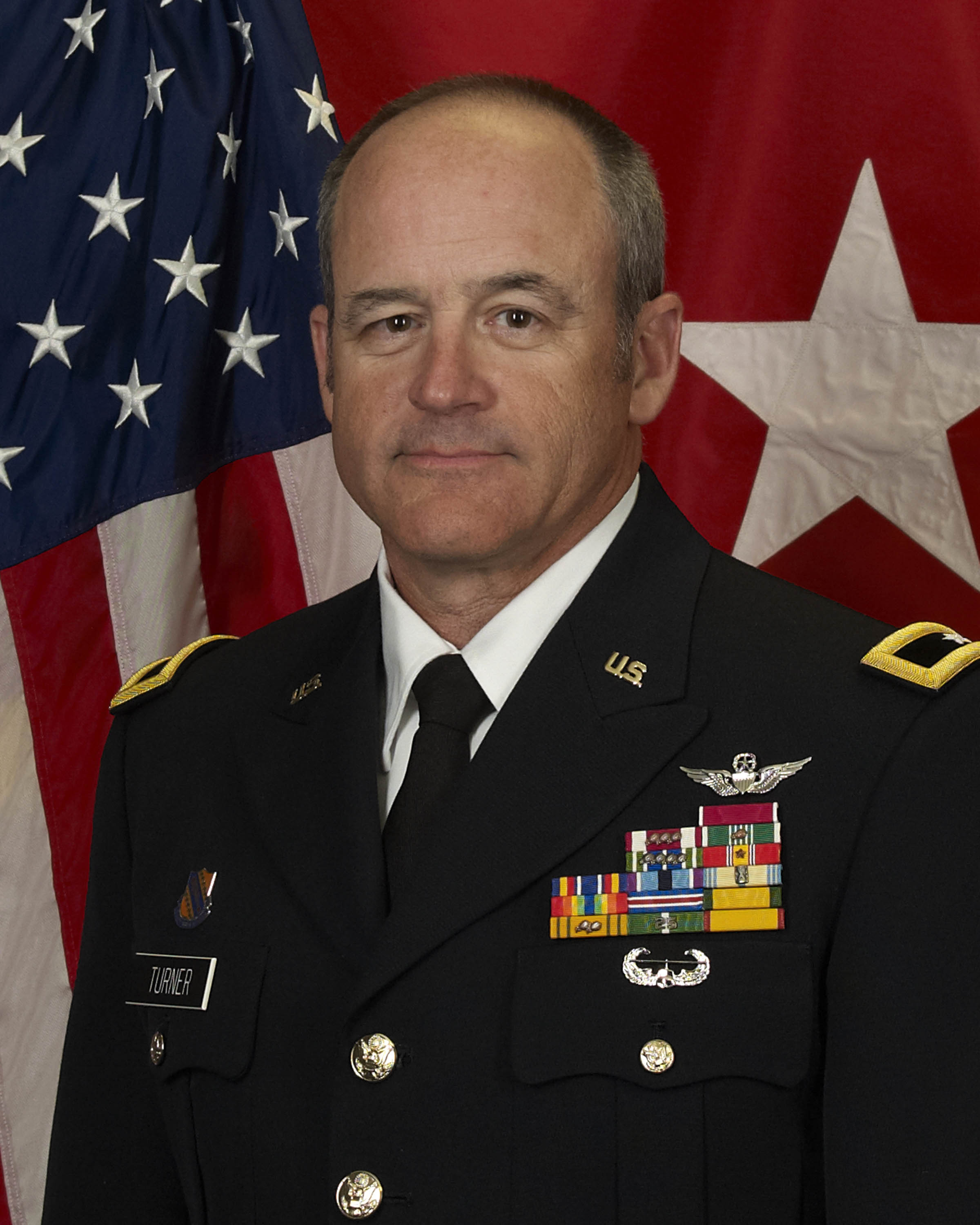 Brigadier General Wallace N. Turner is the Assistant Adjutant General - Army, Washington National Guard, and also serves as Commander, Washington Army National Guard. The Washington Army National Guard Headquarters is collocated with the Washington Military Department at Camp Murray, Washington, which is adjacent to Joint Base Lewis-McChord. The Washington Army National Guard is comprised of four brigade-size commands, the 81st Armor Brigade Combat Team, 66th Theater Aviation Command, 96th Troop Command, and the 205th Regiment (Leadership). More than 6000 Army National Guard citizen-soldiers within these brigades are stationed in 37 different communities across the state.
General Turner is responsible to the Adjutant General for the coordination of policies, programs and plans affecting the Washington Army National Guard. He ensures the recruitment and career management of soldiers and leaders along with their training and equipment readiness to enable them to mobilize and deploy in support of directed missions, whether state or federal.
General Turner received his commission through the Army Reserve Officers' Training Corps and upon graduating in July 1983, was commissioned as a Regular Army Second Lieutenant. He left active duty in 1989 and joined the Washington Army National Guard in 1990.
Education:
1983 The Citadel, Bachelor of Science, Civil Engineering, Charleston, South Carolina
2005 United States Army War College, Master of Science, Strategic Studies, Carlisle Barracks, Pennsylvania
Assignments:
1. July 1983 – November 1983, Engineer Officer Basic Course, Fort Belvoir, Virginia
2. November 1983 – December 1984, Platoon Leader, B Company, 3rd Engineer Battalion, Fort Stewart, Georgia
3. December 1984 – February 1985, Support Platoon Leader, A Company, 3rd Engineer Battalion, Fort Stewart, Georgia
4. February 1985 – December 1985, Initial Entry Rotary Wing Training Student, Fort Rucker, Alabama
5. December 1985 – March 1986, Attack Platoon Leader, Alpha Company, 268th Attack Helicopter Battalion, Fort Lewis, Washington
6. March 1986 – July 1987, Scout Platoon Leader, Charlie Company, 268th Attack Helicopter Battalion, Fort Lewis, Washington
7. July 1987 – May 1988, 3/5 Platoon Leader, Headquarters 1st Battalion, 9th Attack Helicopter Battalion, Fort Lewis, Washington
8. May 1988 – May 1989, Commander, Headquarters and Headquarters Company, 1st Battalion, 9th Attack Helicopter Battalion, Fort Lewis, Washington
9. May 1989 – November 1989, S4, Headquarters and Headquarters Company, 1st Battalion, 9th Attack Helicopter Battalion, Fort Lewis, Washington
10. November 1989 – March 1990, United States Army Reserve Control Group (Reinforcement), Saint Louis, Missouri
11. March 1990 – September 1990, Assistant S-4, Headquarters and Headquarters Company, 540th Aviation Group (Attack), Fort Lewis, Washington
12. September 1990 – October 1992, Commander, Alpha Company, 1st Battalion, 168th Aviation (Attack), Fort Lewis, Washington
13. October 1992 – March 1993, Student, Aviation Officer Advanced Course, Fort Rucker, Alabama
14. March 1993 – September 1993, Commander, Alpha Company, 1st Battalion, 168th Aviation (Attack), Fort Lewis, Washington
15. September 1993 – July 1994, S-4, Headquarters and Headquarters Company, 540th Aviation Group (Attack), Fort Lewis, Washington
16. July 1994 – September 1995, S-3, Headquarters and Headquarters Support Company, 1st Battalion, 168th Aviation (Attack), Fort Lewis, Washington
17. July 1996 – July 1998, Deputy State Aviation Officer and Aviation Safety Officer, Aviation Support Facility, Fort Lewis, Washington
18. July 1998 – September 2001, S-3, Headquarters and Headquarters Company, 66th Aviation Brigade, Fort Lewis, Washington
19. September 2001 – May 2004, Commander, 1st Battalion, 168th Aviation (Assault), Fort Lewis, Washington
20. May 2004 – May 2009, Deputy Commander, 66th Theater Aviation Command (Corps), Fort Lewis, Washington
21. June 2009 – July 2010, Commander, 66th Theater Aviation Command (Corps), Fort Lewis, Washington
22. August 2010 - transferred to Army of the United States Retired List
23. November 2012 – returned from Army of the United States Retired List
24. November 2012 – Present, Assistant Adjutant General-Army, Joint Force Headquarters-Army Element, Camp Murray, Washington
Flight Information:
Rating: Master Aviator
Flight Hours: 2,500 hours
Aircraft flown: TH-55, UH-1H, OH-58 A/C, UH-60 A/L
Pilot wings from: Fort Rucker, Alabama
Awards and Decorations
Legion of Merit
Meritorious Service Medal (with 3 Bronze Oak Leaf Clusters)
Army Commendation Medal (with 1 Bronze Oak Leaf Cluster)
Army Achievement Medal (with 4 Bronze Oak Leaf Clusters)
National Defense Service Medal (with 1 Bronze Oak Leaf Cluster)
Global War on Terrorism Service Medal
Humanitarian Service Medal
Armed Forces Reserve Medal (with Silver Hourglass Device)
Army Service Ribbon
Reserve Components Overseas Training Ribbon
Washington State Legion of Merit
Washington State Emergency Service Ribbon (with 2 Bronze Oak Leaf Clusters)
National Guard Service Ribbon
Louisiana State Emergency Service Ribbon
Master Aviator Badge
Air Assault Badge
Civilian Occupation:
The Asst. Adjutant General - Army, Washington Military Department
Professional Memberships and Affiliations:
National Guard Association of the United States
Reserve Officer's Association
Army Aviation Association of America
Army War College Alumni Association
Effective Date of Promotions:
(Current as of January 2015)
Second Lieutenant 25 July 1983
First Lieutenant 24 July 1985
Captain 1 July 1987
Major 28 February 1995
Lieutenant Colonel 6 December 1999
Colonel 19 May 2004
Brigadier General (Line) 31 July 2014
---
Former Assistant Adjutants General - Army National Guard
BG Lyle Buchanan 1959 - 1974
BG Wayne McDaniels 1975-Jan 1978
BG Charles Hupe Feb 1978-Apr 1979
MG George Coates May 1979-Jan 1981
BG Val McCreary Feb 1981-Mar 1985
MG Gregory P. Barlow Apr 1985-Oct 1986
BG Robert C. Watling Nov 1986-Mar 1989
COL Gerald A. Dines Apr 1989-Dec 1989
BG Donald E. Hagglund Jan 1990-Dec 1995
BG Lee S. Legowik Jan 1996-Sep 2002
BG Gordon D. Toney Sep 2002-Jun 2009
BG Bret Daugherty Jun 2009-July 2012