UPDATED April 6, 2021
This page will be updated as more information becomes available.

COVID-19 vaccinations are still available at Camp Murray and Fairchild Air Force Base for those who are eligible. Starting this week, the Washington National Guard has moved to the next phase of the DoD schema - which allows all service members, DoD retirees, DoD Civilian Employees, and any military dependants 18 and older who are enrolled in the Defense Enrollment Eligibility Reporting System (DEERS) to be vaccinated.

APPOINTMENTS ARE REQUIRED.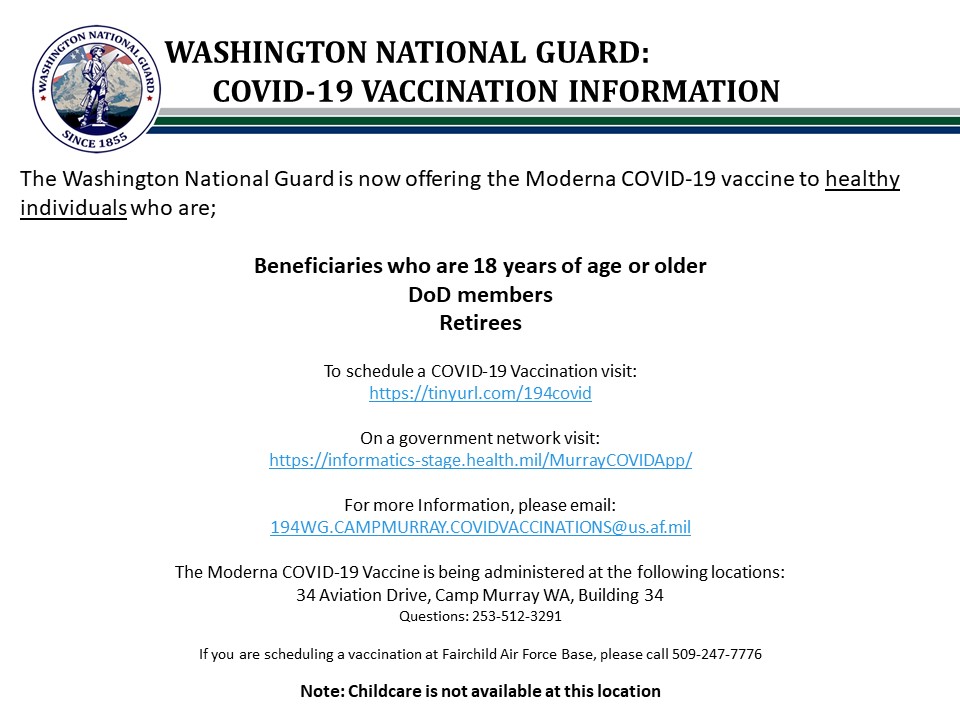 The intent of providing the vaccine is to protect individuals from COVID-19 and its associated symptoms and complications. Those receiving this vaccination may also be less likely to transmit it to family and friends.
The vaccine is being released under an Emergency Use Authorization (EUA) from the Food and Drug Administration (FDA). An EUA allows use of a vaccine prior to completion of all typical FDA licensing requirements. This particular vaccine has been subject to rigorous laboratory and clinical testing for safety and effectiveness, and the FDA has determined the benefits to those receiving it outweigh any potential risks.
Receiving this vaccine is currently voluntary because its release is under an EUA.
I call on every Guard member to use the resources provided on this website and on the Washington National Guard's official social media sites to better educate themselves on the vaccine. It is critical that you obtain information about the COVID-19 vaccine from the official sources provided here, and avoid misinformation that could potentially put your lives and those of your loved ones at risk.
I'm proud of the work of all our Guardsmen and civilians during this public health crisis. Stay safe and check back here often or whenever you have questions about COVID-19. In the meantime, don't let up now. Continue to wear a mask, wash your hands frequently, and avoid gatherings. We're so close to the finish line - let's finish strong.
Bret. D. Daugherty
Major General
The Adjutant General – Washington



Questions? Call 1-253-512-3291