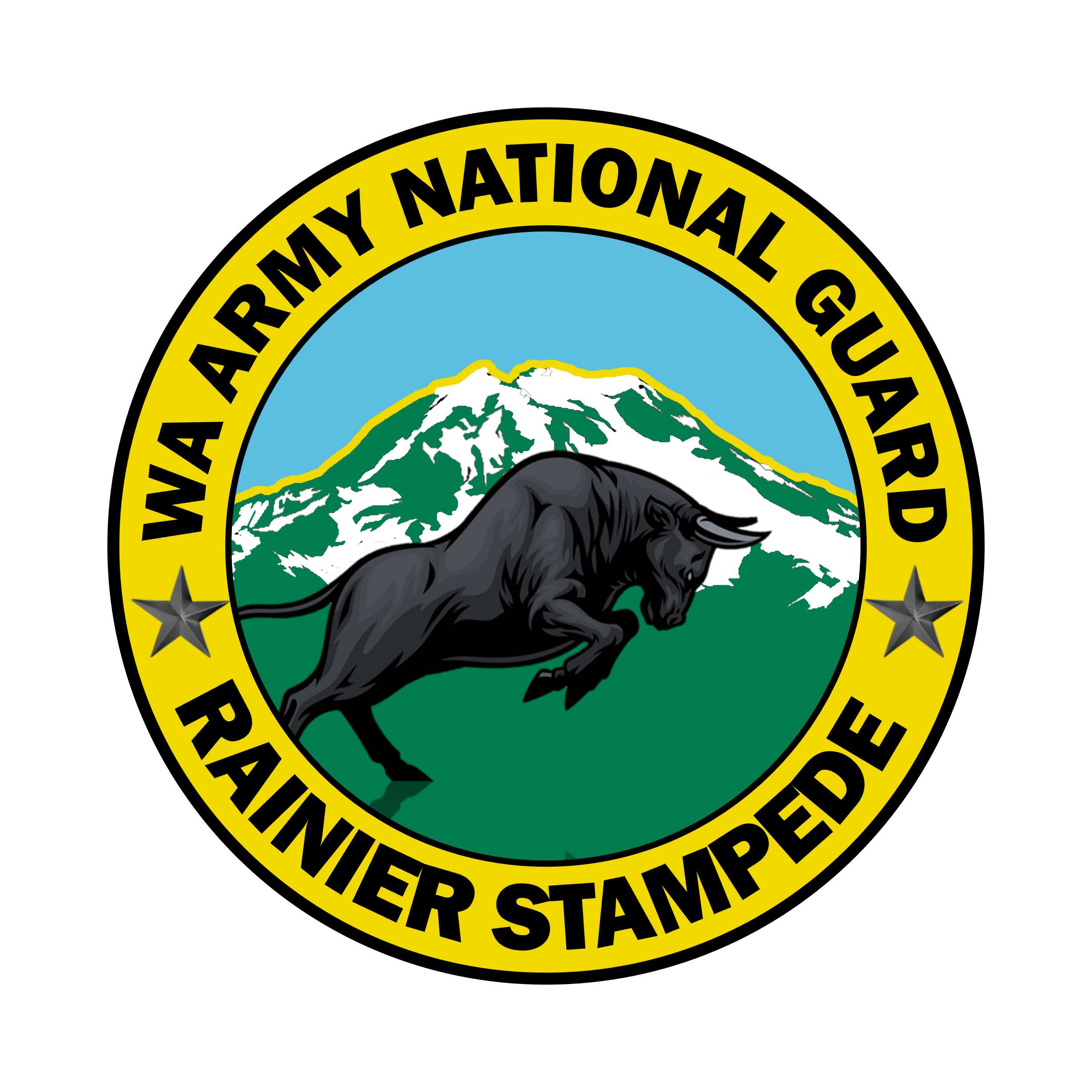 Welcome to the Rainier Stampede
Rainier Stampede (previously called the CG Run) is a Washington Army National Guard (WAARNG) collective event occurring on Nov. 5, 2022 at Yakima Training Center. This event will exercise critical mobilization support functions while enriching the service of, and providing unified purpose, direction and motivation for all soldiers of the Washington Army National Guard. Approximately 3,000 Washington Army National Guard soldiers from across the state will travel to the Yakima Training Center for a multi-facet event and leadership development summit.
This event/run is timed with the Veterans Day holiday. It's the first time in more than 2 years – due to the COVID-19 pandemic and significant overseas deployments (to Afghanistan, Kuwait, Ukraine and Poland) – the majority of our Army Guard force can gather together to honor our fallen, participate in a division-level run and attend any type of leadership summit. We will also have 30 of our Joint Services Support providers, numerous employers and other community resources for soldiers attending. Our Washington National Guard Museum Historians will be providing select unit history assets to provide exposure and educate the force on our more than 165 years of Washington Guard history. There is an opportunity to compete for individual and unit recognition in Army Combat Fitness Test-style competition. This is also an opportunity to have fun, learn and grow together as a Guard.
Parking on YTC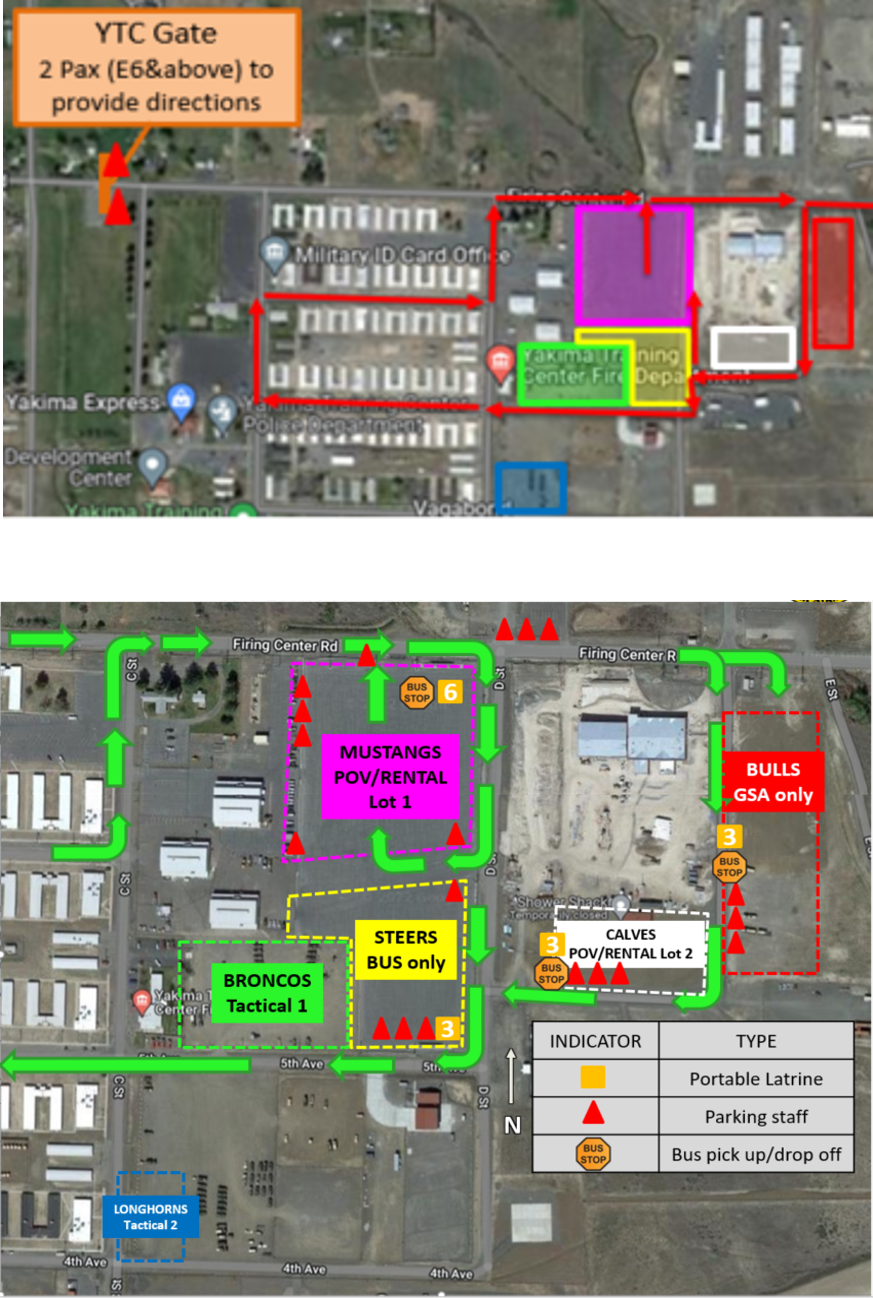 Schedule of Events



Flow Chart of Events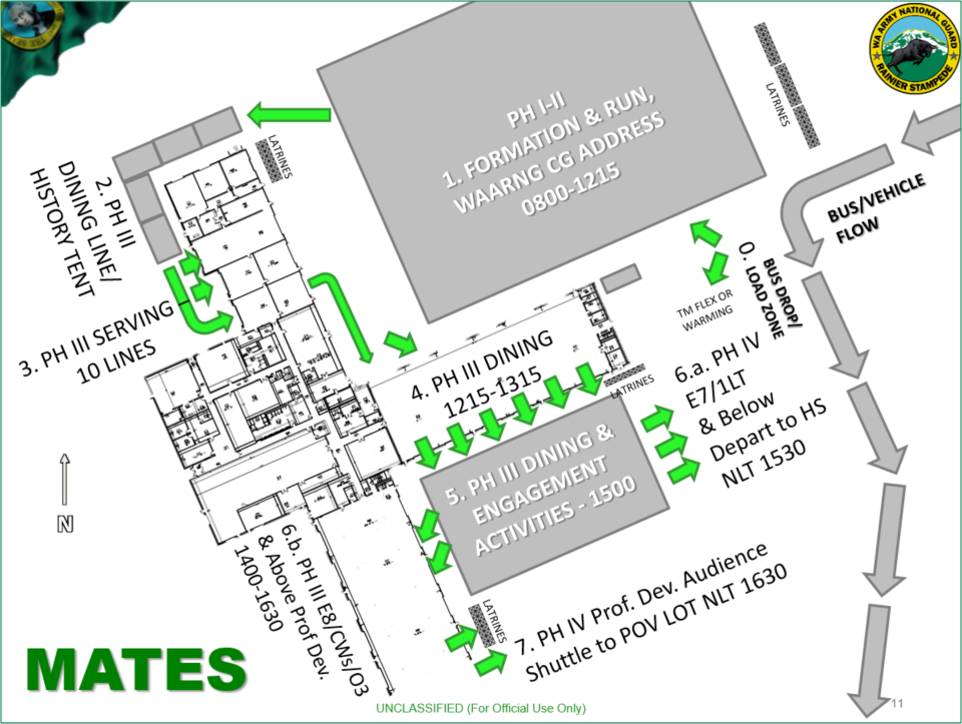 Vendor List
Type
Organization
POC
DISPLAY
ABX Group Inc (Gloves)
Mr Brian Miller
DISPLAY
Litefighter Individual Shelters
Mr Jonathan Aide
DISPLAY
MyHy Hydration
Mr Steve Duran
DISPLAY
SRS Quality Tools
Steven McGlaughlin
DISPLAY
UTS Tent Systems
Jimmyy Turbeville
DISPLAY
WAARNG Museum
Dr. Stephanie Carter
EMPLOYER
WorkSource Yakima
Cynthia D. Anguiano
EMPLOYER
Amazon AWS
Robin Baker
John Pierce
EMPLOYER
Amazon Corporate
Patrick Mireur
EMPLOYER
Department of Corrections/Coyote Ridge Corrections Center in Connell, WA.
Sergeant Ron Poynter / Angeles Olvera
EMPLOYER
Employment Security Department
Otto Cruz
EMPLOYER
Kennewick PD
Sergeant Christopher Littrell
EMPLOYER
MATES
SFC Alice Yancey
EMPLOYER
Office of the Secretary of State (OSOS)
Alex Martinez
EMPLOYER
Selah FD Yakima County Fire District #2
Chief James Lange/Jacob Stuker
EMPLOYER
SpanaFlight
Doug Miller
EMPLOYER
State Sponsored Life Insurance
Jerry R. Acton, JR
EMPLOYER
TSA
Dave Winegar
EMPLOYER
Washington State Patrol (WSP)
Trooper Bryan Villanueva
EMPLOYER
Yakima PD
HAILIE MEYERS
ORG/RECRUITER
341 Language
CPT Pawel Pucilowski
ORG/RECRUITER
ANG National Guard
SMSgt Perez Ssgt Huerta
ORG/RECRUITER
NGAW
MAJ Shaun Neil
LTC Daniel Wessman
ORG/RECRUITER
RRB
CPT Bell, Joseph T III
ORG/RECRUITER
RRB
Crosby, Bridget L CW3
RESOURCE
G1- Education
Mrs. Diana L White
RESOURCE
G1- Incentives
SGT Teyana Sigler
RESOURCE
G1- SAP
Mary Linard
AJ Foster
RESOURCE
Goodwill Veterans Service Program
Maria Navarro
RESOURCE
JSS- (Work for Warriors)
Reyes Villarreal
RESOURCE
JSS- CYS (Child & Youth Services)
Danny Christmann James Goodman
RESOURCE
JSS- MFLC (Military & Family Life Counselor)
Rita Baldonado
RESOURCE
JSS- MFRS (Military & Family Readiness Specialist)
Michael Berndt and Leslie Burks
RESOURCE
JSS- MOS (Military One Source)
Paul Parker
RESOURCE
JSS- PFC (Personal Financial Counselor) TBD
RESOURCE
JSS- R3SP (Resilience, Risk Reduction, Suicide Prevention)
Erin McMicheal
RESOURCE
JSS- Red Cross
Lacie Clark and Darryl Chitwood
RESOURCE
JSS- SHARP (Sexual Harassment/Assault Response Program)
Angela Taylor
RESOURCE
JSS- SOS (Survivor Outreach Services)
Patches Cox
RESOURCE
JSS- SSVF (Support Services for Veteran Families)
Leroy Rothamel
RESOURCE
JSS- TAA (Transition Assistance Advisor)
Annie DeAndrea
Shawn Farber
Ana Curtis
Jennifer Jordan
RESOURCE
JSS- TRICARE
Pam Eisfeldt
RESOURCE
JSS- Vet Center
Billy Daughtry
RESOURCE
Washington State Department of Veteran Affairs
Mike Badgley
RESOURCE
Yakima VA Vet Center
Billy Daughtry
SCHOOL


Alternative Nursing Services
Abigail Estrada
SCHOOL

Grand Canyon University
Gina Grabicki

SCHOOL
American Military University

Paul Rondo
SCHOOL
University of Mass Global
Emory Lunsford
SCHOOL
Yakima Valley College
Chris Kinzell
ORG/RECRUITER
Unleashed at the Stadium Bowl
Brian Nelson