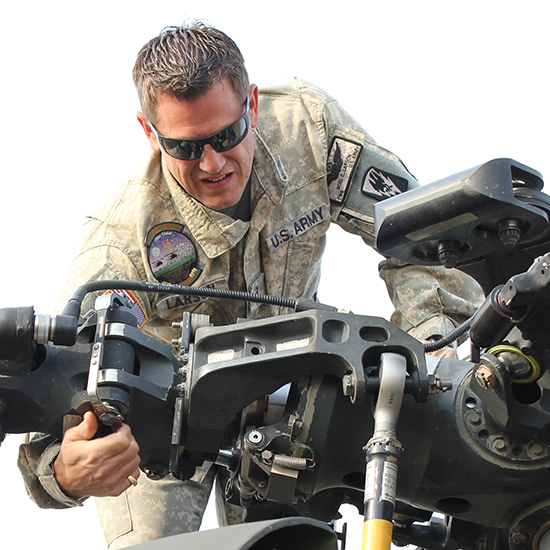 Chief Warrant Officer 5 Noel Larson
Aviation Standardization Officer
66th Theater Aviation Command
Q: How long have you worked for the Washington Military Department?
A: I have been in the Washington Army National Guard since April 1, 1988. I'm a born and bred Washington soldier.
Q: What do you feel are the greatest benefits to working for WMD?
A: It's the sense of working towards something that is greater than yourself! This includes our federal mission of serving the country, but more personally by serving the citizens of Washington, my neighbors!
Q: What's the most interesting/significant project you've worked on while with the Washington Military Department?
A: I worked for the Counterdrug Program as a pilot for the Recon and Aerial Interdiction Detachment for years. The missions were challenging, but I was directly helping keep drugs off the streets of Washington. Also, some of the most challenging flying I have done is water bucket operations for wildfire suppression.
Q: Which value do you need to embrace most in your job, and why?
A: While they are all very important, I believe duty has to be embraced more than others. My peers and I have an unforgiving occupation and not seeking to perform our duty to the highest degree, not only endangers oneself, but the people that are relying on the assumption that we are trained professionals! We have to maintain a high level of proficiency in this occupation and if one doesn't have an ingrained sense of duty for not only your individual missions, but the collective mission, people can die.
Q: What do you find most challenging about the work you do here?
A: As aviators in the Guard, my pilots have the same exact training and evaluation requirements as an active duty pilot, but without the advantage of being available to complete them 365 days a year as do our active duty counterparts. Thus, the most challenging part of my job is trying to fit these requirements into a training schedule that is already filled by the units.
Q: How is working here different from previous work you've done?
A: At one point I was a pit boss in a casino, so I can't imagine a bigger difference.
Q: Did you have any key mentors or people who deeply influenced who you are, what you believe in and what you're committed to in your work and life? Tell me about them.
A: Chief Warrant Officer 4 Michael Montgomery. A former Washington Army National Guard member who was killed in Afghanistan while flying for the 3/160th SOAR. He is professionally and personally my example of how people should be. He was the finest aviator I've known. He had natural ability, but he worked tirelessly to be the best at everything he set out to do! He pushed me to be the best I could be as a pilot and he was always true to himself. He treated everyone with respect.

The greatest gift someone could give me when I retire is to tell me that I was their mentor and inspired them in some way like Mike inspired me to better myself.
Q: Do you have a favorite quote or mantra you live by?
A: Life is an adventure and I never want to run out of stories for my grandchildren!
Q: How do you recharge from a busy or stressful day?
A: In the winter you will find me with a book, and in the summer you will find me on my boat!
See more of Our People.