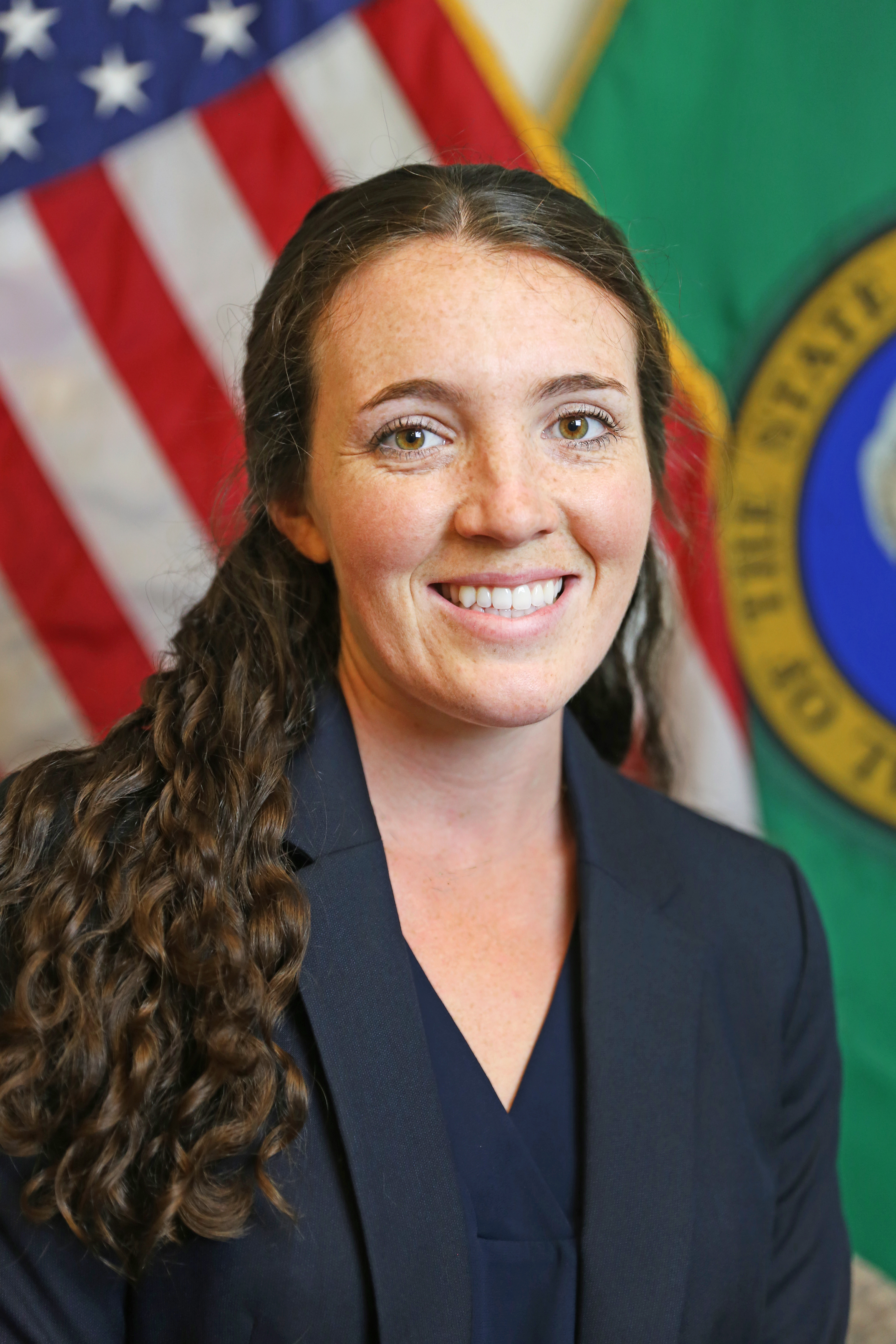 Kiana Kabanje
Disaster Preparedness Outreach Program Manager
Washington Emergency Management Division

Q: What brought you to the Washington Military Department?
A: This position, the Disaster Preparedness Outreach Program Manager, is what brought me to the WMD. This position is the perfect combination of emergency management and genuinely connecting with people.
Q: What's the most inspiring part of your job?
A: The most inspiring part of my job is hearing stories about how people have prepared because of my program. It's fine and dandy to meet lots of people at preparedness events but when people find me later, after an event, and tell me about how they were inspired to prepare and acted on it, that's what encourages me to make every encounter matter.
Q: What motivates you to work hard?
A: I'm motivated by the "ah-ha!" moment I see on people's faces when I talk with them about earthquake safety, the simplicity of preparedness, or tips and tricks to make preparedness easy. Seeing that light blub moment happen for others is incredibly motivating.
Q: What do you wish other people knew about the Washington Military Department?

A: I wish more people knew that the Military Department encompasses not only the National Guard abut also other valuable, interesting programs. Both the Youth Academy and EMD have fascinating stories that most people don't know about.
Q: Flashback to when you were 10 years old. What do you want to be when you grow up?
A: An astronaut, like everyone else! Although I didn't know about emergency management, I knew I wanted to work in public safety somehow. Watching Baywatch might have influenced my thinking.
Q: Do you have any skills/hobbies/talents that most people don't know about?
A: While this probably does not come as a surprise, I absolutely love everything to do with the outdoors. I love camping, backpacking, hiking, skiing, scuba diving, running, and the list goes on. Most people probably don't know that as part of my undergraduate degree, I had the opportunity to practice survival skills in the mountains of Colorado and the jungle, coast, and ocean of Nicaragua.

Q: If you could only eat one meal for the rest of your life, what would it be?
A: Homemade chocolate chip waffles. They are my favorite comfort food, inspired by a family tradition for Sunday morning breakfast.
Q: Aside from necessities, what one thing could you not go a day without?
A: My Bible. Being a Christian, it is so important to me to have my Bible everyday.
Q: How do you recharge from a busy or stressful day?
A: I have two dogs, a 2 year old black lab/border collie and a 6 month old shepherd mix. They give me so much joy and I love playing with them.
Q: What's your biggest pet peeve?
A: Arrogance. We all have so much to learn and I think our society would be a more positive place if we display humility rather than arrogance.
Q: What do you want to make sure you do before you die?
A: I want to see as much of the world as I can! We live on an incredible world and I love to see and learn from other cultures and the beauty that is around us.
Q: What are some causes you care about?
A: One cause I'm very passionate about is donating blood. Giving blood adds nearly no inconvenience to our lives, yet truly saves other's lives. My dad is my role model; as far as I can research, my dad holds the world record for donating blood. As of January 2020, he has donated 2,680 units of blood. That's 335 GALLONS! His selfless service inspires and motivates me to focus more on others than myself.
Q: Do you have a favorite quote or mantra you live by?
A: Are you 2 Weeks Ready? Just kidding. Live everyday with joy in your heart and a smile on your face.
See more of Our People.