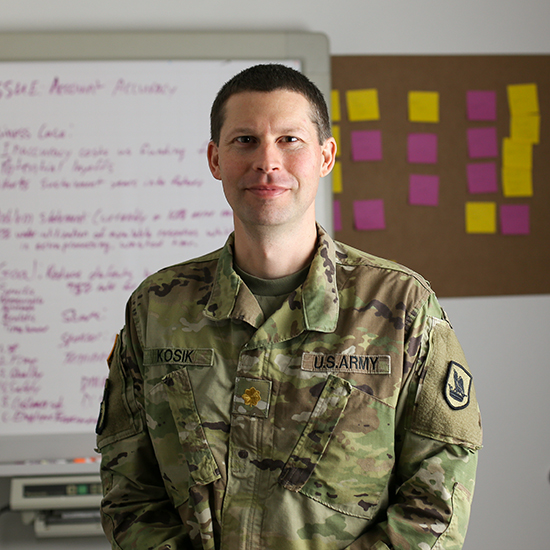 Maj. Keith Kosik
Continuous Process Improvement (CPI) Director
Washington Military Department
Q: How long have you worked here?
A: I have been in the Guard for over 17 years; 12 of that has been as a full-time Guardsman.
Q: What's the most interesting/significant project you've worked on while with the Washington Military Department?
A: I have worked on some interesting Lean projects but the most interesting/significant thing I do as CPI Director is teach. My CPI teammates and I teach a 1-day Lean fundamentals class, and a 1-week Greenbelt course. Teaching is a big responsibility – all eyes are on you. People who attend our classes expect it to be worth their time; they expect to get something they can use to make their teams or problem-sets better - and you have to deliver.
Q: Which value do you need to embrace most in your job, and why?
A: Lean Six Sigma sounds very complicated but at its core it is a continuous improvement mentality. You have to embrace a mind-set that creates ideas, and a willingness to believe that you can help make things better. And, when ideas don't work out – you learn from it and try again.
Q: What do you feel are the greatest benefits to working for WMD?
A: The mission, values and culture of the Military Department make it the best place I have ever worked. We are a team dedicated to serving others, and protecting the ideals that make our nation great. We work together, exercise together, support each other – we share success and failure together. It doesn't get better than that. The 4-10 work schedule is pretty amazing too.
Q: What do you find most challenging about the work you do here?
A: Lean involves problem-solving, and the problems we face in the WMD are as complex and varied as they are in any other organization – public or private. When we mentor Lean projects or coach Lean Teams, we have to resist the urge to rush to judgement and offer an on-the-spot solution. It takes patience and endurance to adequately define, measure and analyze a problem.
Q: What's your greatest accomplishment here at work?
A: Relationships. The people at Camp Murray and the WMD family come from every community and background. It's especially visible in our classes – the young soldier sitting next to the civilian emergency management planner; the Youth Academy counselor next to the Air Guard NCO, etc. They impact me every day, and I like to think that I have had an impact on them as well.
Q: Did you have any key mentors or people who deeply influenced who you are, what you believe in and what you're committed to in your work and life?
A: Yes, a countless collection of teachers, coaches, pastors, comrades, friends and family members. I am most deeply influenced by my wife and children – it's amazing what you learn from being a parent.
Q: Do you have a favorite quote or mantra you live by?
A: I love quoting books, songs, movies, speeches, etc. My favorite can change on any given day, but one of my favorites is from Darth Vader when he uses the force to choke a guy and says, "I find your lack of faith disturbing."

Faith is the substance of things hoped for, the evidence of things unseen. Every relationship, effort or enterprise requires it.
Q: How do you recharge from a busy or stressful day?
A: I spend most of my time outside of work with my family, but my favorite hobby is surfing. The northwest isn't usually associated with surfing because it's cold up here and we don't have major population centers on our coast, but a sunny day with good waves at La Push or on the Strait of Juan de Fuca is an amazing experience.
See more of Our People.