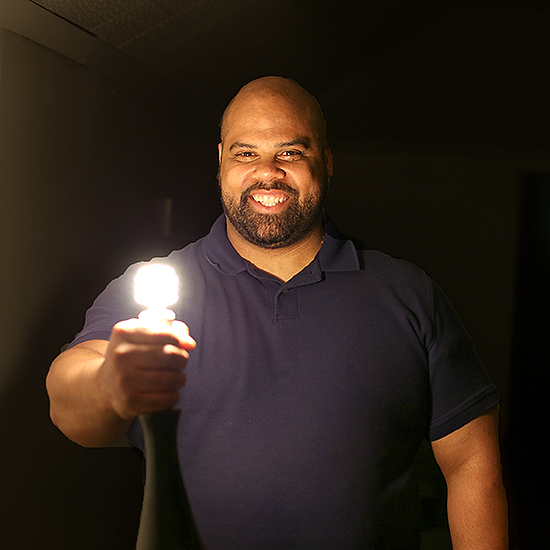 Bernard Jackson
Energy Manager
Construction and Facilities Management Office
Q: How long have you worked here?
A: I have worked with the agency for almost 2 years now.
Q: What do you feel are the greatest benefits to working for the Washington Military Department?
A: The opportunity to serve the state and country I live in the best way I know how — infrastructure optimization!
Q: What's the most interesting/significant project you've worked on while with WMD?
A: The most interesting project I have worked on so far has been the exterior lighting upgrade campus wide (soon to be statewide). It is challenging due to the many regulations and funding authorities involved; educational due to the amount of detail and range of scope involved; impactful because we are committed to installing dark-sky compliant lights that will reduce the negative impacts we humans have on our micro/macro-ecosystems; and fun at the end of the day because I get to be part of a team that builds really cool things!
Q: In what ways have you had an opportunity to grow new skills?
A: The Agency is committed to educating its employees, and gives me the opportunity to bolster my skills through instructor led courses and out-of-state training/certification. I can then immediately apply my new skill set to my work in the field, and teach my co-workers what u have learned.
Additionally, the CFMO is chock full of brilliant and experienced folks that are eager and willing to share and apply what they know.
Q: Which value do you need to embrace most in your job, and why?
A: Patience. Because Rome was not built in a day, and road blocks really do exist.
Q: What do you find most challenging about the work you do here?
A: Balancing federal and State requirements, regulations, and guidance. I have never before seen such a mash-up. While frustrating at times, walking the tightrope between the two can be exhilarating and a form of art.
Q: Did you have any key mentors or people who deeply influenced who you are, what you believe in and what you're committed to in your work and life? Tell me about them.
A: I try my best to learn from people I come into contact with: whether it's a Nobel laureate or a homeless person trying their best to get by, I truly believe that everyone has a valuable story to tell. My family and friends have been the shiniest examples of what I hope all men and women will eventually become.

My mother and father are, of course, some of the biggest influencers in my life. My father works hard to this day, and I am constantly motivated by his endurance and work-ethic; my mom must have the biggest heart in the world, yet she is fierce when it comes to protecting her children. The way both of my parents interact with people on the street (strangers) has been a key inspirational point in my life. It has shown me how to be kind to others, and considerate of other's needs without giving up a part of yourself. We are all human, so I certainly cannot say that I am successful 100% of the time, but I make the best effort I can.

Last, but most certainly not least, my wonderful wife. I could never have wished for a more beautiful, smart or supportive partner. She made the trip from Israel to live in the U.S. completely alone, and during incredibly difficult times for her family who are very dear to her. She is and always will be someone I look up to.
Q: Do you have a favorite quote or mantra you live by?
A: "Willfull waste makes woeful want."
Q: How do you recharge from a busy or stressful day?
A: I play board games with my wife, do math (yes I'm that much of a nerd), or walk my dog.
See more of Our People.